Dear Music Friends,
Yay!!! Thanks to everyone who encouraged us, came out, donated time and money and helped raise awareness for the AA 490 Challenge. We were able to raise $4400 for this important cause, and donations are still coming in!
---
What's Next?
Are you ready for a summer send-off bash?? The Friends of the Vine invite you to a Caribbean Night White Party featuring great music by Rich Willis & the Chillin' Circuit! There will be wine tasting and Caribbean inspired refreshments too. This much anticipated event takes place at the Skyline Club in Southfield, MI on September 23, 2016 at 6:30 p.m. Entry to this event is $70 (all inclusive) and reservations are required. Call 248-350-9898 to reserve your spot now! Hope to see you there!
---
News!
We are moving on from Robert's Riverwalk Hotel Patio. Thanks to everyone who came out and supported us, it was a great summer!
---
 Save the Date
Join Rich Willis & the Chillin' Circuit for a Jazz Brunch at the Skyline Club.
October 8, 2016 and again on November 12, 2016. It's a great time to plan an outing with your friends! Click here for more details.
---
New events and bookings will be posted on the website so you will always know where to find us! We hope to see you soon!

Best Regards,

Richard Willis and Blandina M. Rose-Willis, Ph.D.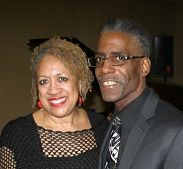 Rich & Deena Willis